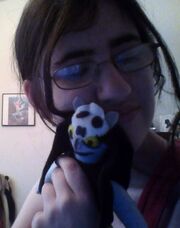 Dagharu is a romantic ship between Miharu and Dagda. It is the canonical ship within the games The Rot and January .
While they can be paired with other characters, the romantic relationships will not max out unless they are paired together. Also, they cannot have a completely negative relationship as they can with other characters. 
Erin Suman, on which Miharu is based and who also is her voice actress, is married to Dagda in real life.
The Dagharu theme song in The Rot is called Wurzel which means "Root" in German. Erin Suman alo wrote an official Dagharu theme song called My Everything which you can read here at her Deviant Art account .
This ship has alternate names Royal Decay and Toxic Love.
Ad blocker interference detected!
Wikia is a free-to-use site that makes money from advertising. We have a modified experience for viewers using ad blockers

Wikia is not accessible if you've made further modifications. Remove the custom ad blocker rule(s) and the page will load as expected.